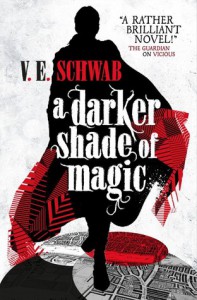 So, a lot of people shelve this a young adult, however, Victoria has said that the books published under V.E. Schwab were her adult books and those published under Victoria Schwab were young adult. Just so there's no confusion.
Characters
I love how unapologetic

Lila

is. She's fierce and I love that about her. It's completely refreshing. There are so few soft spots with her and I think that's great.
Kell

. I don't even know where to start with Kell. I like his moral ambiguity, he doesn't always do the right thing but that doesn't mean he's not a good person. I wish I could steal his

coat

. How fantastic does that coat sound? I was in awe every time it was brought up. I think his coat should be a character unto itself. Imagine the stories it could tell.

Rhy

. Oh goodness. I love that his character was the sidekick but I also really wanted an entire story from his point of view.
I'd rather die on an adventure than live standing still.
Story
When I first read the description, I thought it was intriguing but I was a little confused. Don't fear, it's very clearly and well-explained.
The characters aren't cookie-cutter, there's more to them than meets the eye, there's a brief kiss scene but that doesn't mean there's romance (but that doesn't mean we can't ship it!), and the world building is incredible.
I want to know more about the traveller magic that Kell has. I want to know more about everything. I want to travel the Londons (and beyond) while wearing Kell's coat.
I'm not used to reading adult fantasy. You can tell that this isn't written for a young adult audience, not because of it's content but because of the writing. I can't pinpoint what it is exactly but the flow to the writing is different. (It's not better, it's not a higher quality, don't even go there, it's just different.) It's like that saying when a 20-something realizes they're an adult in a situation so they look around for an adultier adult. This book is that adultier adult. It has its shit together.
This book left off on a note that left me aching for the next adventure but at the same time, I was pretty content if this had been a standalone novel. Thankfully, A Gathering of Shadows comes out soon so I can find out what trouble Lila got into and so I could drool over Kell's coat some more.
Have you read books by V.E. Schwab? Do you love her like I do? Also, if you're not following her on Twitter, you should.